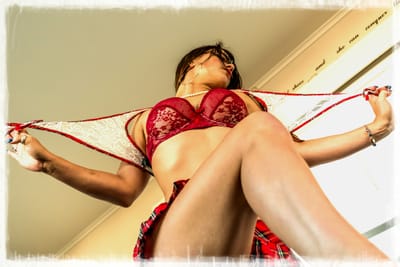 I am Clara , I am from South of France and swinger since forever (yes, no joke, I am one of them!).
I live in New Zealand since 2015.
When I first arrived, my first search was into swingers clubs and private parties.
And even if I managed to get some fun here and there, I couldn't completely be satisfied, neither fill my fantasies or feeling that comfortable anywhere; it could be from the place or the pressure of playing (I am bad at saying no) or the couple's age or simply no attraction to them.
Coming from the country that started this whole world of swinging and swapping ... I was sad and frustrated.(Swinging started to become popular in the royal court from the 17th century with King Louis XIV in Versailles)
But I had friends to play with who introduced me to their contacts, who introduced me to others etcI organized parties when I felt like it but mainly made them happen on the moment.But it was never enough for me and decided to meet more swingers around which was far more exciting...
Nope, you are not alone, we are a huge community!

So in 2019, in Wellington, I decided to create bigger parties than what I was doing already and meet these exciting new couples.In 2021, I merged with Eightoutof10 parties in Auckland to expand my parties to further North as well.I usually consider all my guests as my friends and to me it is very important that I feel comfortable with you so everyone can get along.You are coming to my party and about to meet my circle, we will meet prior so, in that way, I am sure that you understand how I run the night and to have all your questions answered before to come. Would you let a perfect stranger meet your family on your behalf before to meet them?I need to feel that you can fit, that you are an attractive and respectful person with an open (swingers) mind.But I know, the way I organize my parties are not for everyone.I am a foreigner with a very particular lifestyle and organise them the way I am comfortable at them.Meeting you is a way for both of us to make sure you will get along with everyone. If I am not comfortable with you or you are not with me, then it is very unlikely you will get along with my couples.Otherwise, I am sure you will find other hosts who can fulfill your fantasies.

Please note my parties are Swingers parties and not orgies neither gang bangs. These 2 last situations are possible to happen if the night turns that way but only couples and single ladies are invited to my swingers parties.In 2022, Because of the amount of requests I received, I started to organize high standards Gang Bangs called " The Queens Masquerade", the ladies choose the males and are in total control. All single males become their sex slaves for the night ( more details in the events section).As well, I started Kink Parties which are open to everyone of any age/sex/body shape/sexual preferences. Those parties are not swingers parties but you are still welcome to play. They are more directed towards kinks and fetishes.My LGBTQ friendly parties are open to everyone as well (within the 25-45yo age range) but single straight males are not welcome.To all my parties except the Kink parties, I do not accept more than 1 male for one lady.Everyone has freedom to do as they please (and play or not), I just organize the place, the atmosphere and the guests.